(This post was originally shared on www.luannedwardswrites.com)
Our second tour was about an hour away from Segovia, in the city of Salamanca. We rose early that morning and boarded a bus that took us through the highways of Spain, out of Segovia and by Avila. Traveling within Spain's interior is a beautiful experience, since the highways are not quite like those that we're used to. There are usually no overpasses, not too much honking, and a lot of countryside to gaze upon as you pass through. Sprinkled between interesting conversations with my traveling partners were glimpses of fields of sunflowers, which I still regret not photographing in time, since the blanketed hills caught me by surprise. Later we would pass the lines of windmills that Spain is known for, and I'm reminded of Don Quijote and his
experiences on the roads that we were traveling. We may have been riding a bus (and not our trusty horse, Rocinante) and the windmills were a bit more modern, but it was an adventure nonetheless.
We arrived in Salamanca, which had a different flavor from the other Spanish cities I'dvisited. This one seemed, somehow, more like a city. At first glance, I wasn't sure I liked it – it ran contrary to what I'd expected it to be. But once we'd move into the city and began at the Plaza Mayor, I felt Salamanca begin to slowly grow on me.
We started our tour at the University of Salamanca, exploring the building and its evident history in every beam and detail. My favorite story is that of Frey Luis de Leon, a professor at the University who had been teaching one day, and then thrown into prison the next by the heavy hand of the Spanish Inquisition. It took five years for his defense to acquit him of his supposed crimes, after which he returned to the classroom with the following quote, "Como decíamos ayer." Translated, it reads, "As we were saying yesterday." I'm not sure why, but this quote really stuck with me and continues to – a clear statement of moving forward and not letting the past hold back the future. I find it encouraging, even still today.
One other item really stood out to me – the wall markings of the PhD students who fought a bull in order to earn their degree and then used the blood to write a quote and a symbol (the word "Victor" in some permutation) on the wall. These days, they use a more humane paint to inscribe this on the wall – but still a great tradition. A good friend and fellow travel writer was, at that time, awaiting defense of her dissertation and we thought that this would be a great tattoo when she became Doctor, which she would a month later.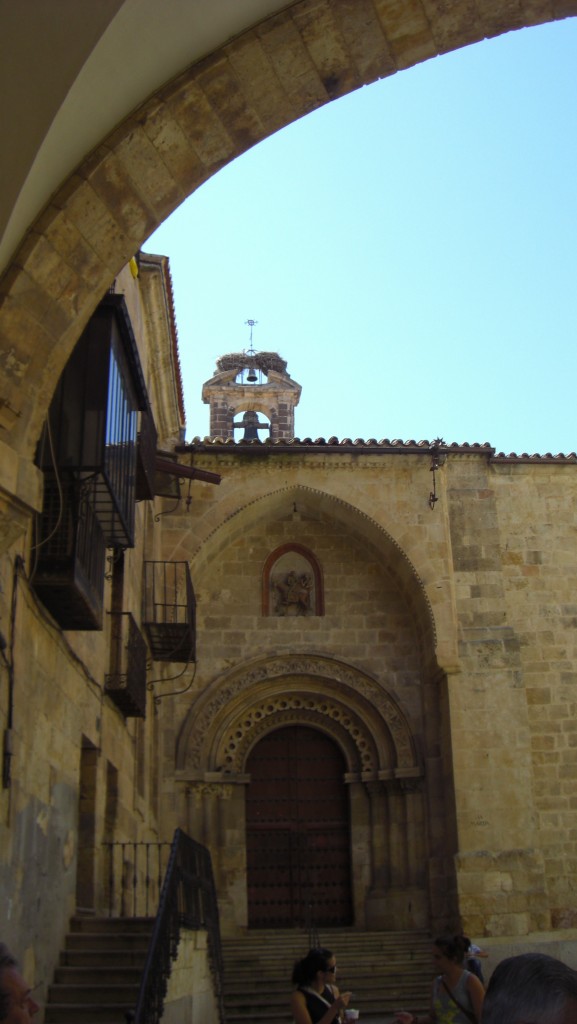 We took a meandering walk in the hot sun – every, every day was hot in Castilla y Leon – looking at shop windows and churches and even purchasing cookies made by the nuns in a local convent. Lunch was spent at an outdoor restaurant just outside the Plaza Mayor, which provided a flavorful menu del día and people-watching opportunities.
After a long, hot day of walking and absorbing and maybe even baking a little, we boarded the bus on a quiet street just at the edge of the city and drove back to Segovia, waving out the window at Avila and stopping for a moment to take a photo at the base of the hill below the magical castle outside the gates of Segovia. The driver dropped us off at the i.e. University, which seemed incredibly modern compared to the University of Salamanca, and we made the uphill trek through the city gates and to Los Linajes.
Posted in Uncategorized |