If there is one thing that you could say about Spain, it's that this country has got religion. Today, while there is no government sanctioned religion, its Catholic roots are strong and 71% of Spaniards self-identify as Catholics. Its history involves both remarkable religious tolerance followed by equally remarkable religious intolerance. Many landmarks in Spain are large, imposing cathedrals as well as synagogues and mosques – relics from a time when several religious groups lived together until they didn't. But I'll save the history conversation for another blog.
I was attracted to the story of la covivencia, Spain's once-harmonious co-existence of Muslims, Christians and Jews, during my first visit to Toledo in 2003. At the time, I was a newlywed in an interfaith marriage – my husband is Jewish, and I was raised Catholic – and its history of tolerance resonated with me. While visiting Toledo, I fell in love with its sand-colored structures and the Tagus river that flowed around it. And what I really loved most was the beautiful cathedral. And since that first honeymoon visit, anytime I've visited the Iberian peninsula, Spain's religious roots could be seen, woven into the landscape.
During a visit to Salamanca in 2011, we visited the cathedral there – its two sections reflecting the "old" and the "new" sides of its architecture. As well as being home to this beautiful religious edifice, Salamanca boasts one of the oldest universities around – the University of Salamanca. The photo above is of Fray Luis de Leon, who was a famous instructor at the university and stands as an example of Spain's tumultuous religious history.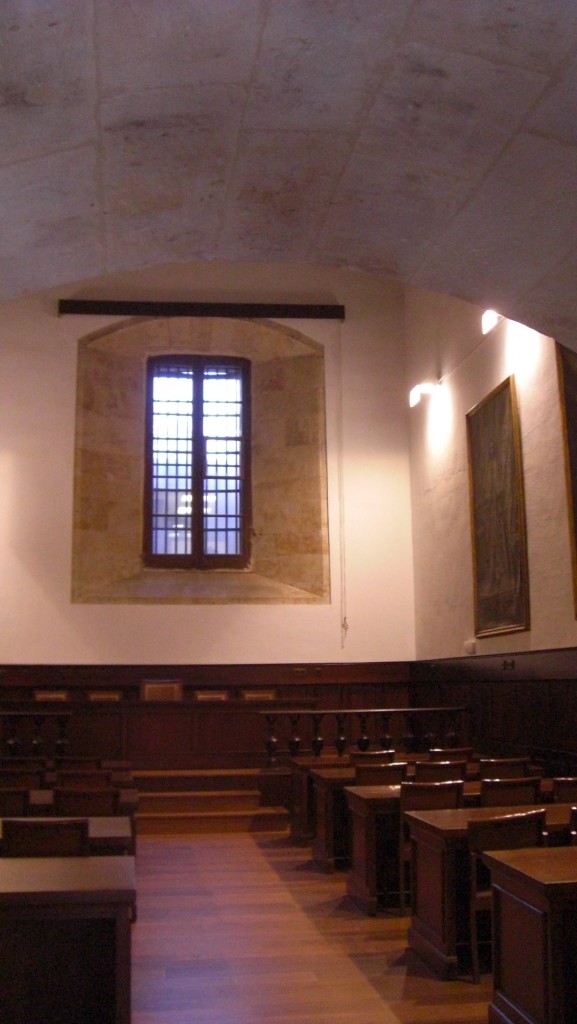 Fray Luis is a prominent figure as an example of the intersection of government and religion. He was arrested during the Spanish Inquision, and held for four years for having what was considered heretical views. After that time, he was cleared and released from prison. He returned to the classroom and began his first lecture with, "As we were saying yesterday…" as if only a day went by since he had last lectured. When our tour guide told us this story, it seemed that she was the most proud of that anecdote.
Posted in Uncategorized |