His name was Enrique, and he was carrying a man-purse. I was very happy to see him as he met me outside of the AVE station in Córdoba, since without him I would have been completely lost.
I'd awoken that morning to a beautiful, strong sun peering through the shades in my hotel room at the Westin Palace. The meeting I had organized in Madrid had just wrapped up, and I was free to explore for the day. It would have been easy to stay in Madrid and visit some of my favorite haunts – I could get lost in Plaza del Sol and shop for days. But it seemed like a terrible waste to be in Spain and not explore a bit more of it before I had to leave.
My local contact had sent me some suggestions that we felt I could cover in a day via the AVE train: Segovia, Sevilla, and Córdoba. I had spent some time in Segovia in the front half of my trip, and Sevilla was a place to which I'd wanted to dedicate more than a few hours. So, Córdoba it was.
I was to board the train in Madrid's Atocha Station, which was a short walk from the hotel. Since I've never traveled through that station before, I often think of Atocha in connection to the terrible event on 11 March 2004.  As I walked into the interior of this grand station, I offered up a silent prayer to those who lost their lives. (I do the same whenever I hear La Oreja de Van Gogh's Jueves, which was also written in tribute to those same souls.)
Traveling for the first time alone by train in a foreign country is a rite of passage. It was disconcerting to try to navigate the large, busy station, with my limited Spanish skills and all of the baggage that comes with being from somewhere else. Added to that was the solemn feeling I had as I recalled the significance of this station, which helped me to feel at once somber and watchful. I felt comforted, though, as I passed through the security x-ray on my way to my train and reminded myself that it was certainly more secure than the Providence to NYC train I often take. While the boarding experience was a bit different for me as an American, I'd already had a printed ticket to expedite the process.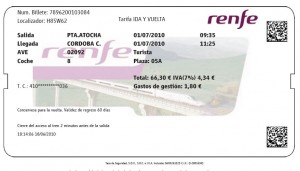 If there is a train that runs between your city of origin and desired destination in Spain, then you must consider taking the AVE instead of flying. (Here's a great article from the Guardian by someone who feels the same about the train ride on the AVE. And another blogger has written a great review of his trip via the AVE train.) I found my assigned seat on Coach 8, and was handed a pair of free earbuds by an attendant. And then I relaxed into the almost-two hour ride to Córdoba.
The interior of the train was modern and clean, and I had plenty of room to stretch out. The seat next to me was unoccupied, which was probably due to the midday timing of the train. Instead of taking out a book or watching the free movie, I just gazed out the window at the passing scenery. The fast-moving view from the window was mostly hilly, and very green. As opposed to flying, an experience akin to boarding a tube on one end and emerging, almost untouched, on the other – I felt like I had experienced every kilometer of this earthbound journey.
Before long, we arrived into the airy sunlit station at my destination. And while I felt proud that I had made the solo train trip without much help, I was happy to let another person do the driving. Enrique – a professional tour guide – met me as I exited at Córdoba station, and I followed his lead as he showed me his city over the next two and a half hours. As for touring Córdoba: I'll save that for another time, but as a down payment, below are some photos.
Posted in Cities in Spain, Transportation |