It was a beautiful, dry July night in Segovia. We were writers, all women, all travelers, walking back to our hotel as slowly as possible, trying to breathe in everything about our last night in the city. It was late – almost 23:00 – but the sun hadn't fully set. And as we rounded the corner, a woman – a girl, really – placed herself in front of the keyboard and began to play. (2011)
In some of the other blogs I've located online about Segovia, many of them describe day trips to Segovia. I supposed that, if I were a tourist, I would probably squeeze in a day in Segovia on my way to Madrid. In fact, I did exactly that in 2010 – I spent ten hours on a tour bus, rushing through the sights of Segovia and Avila before going back to the capital for a business meeting.
But now that I've spend more than a day in Segovia, it seems like a great sin to rush this beautiful city into one day. Do that, and it will never have a chance to creep into your soul. And travelers, you must go to this great walled city and absorb every tiny piece of it.
In 2011, I spent ten days with 12 travel writers in a workshop hosted by Brown University. We "lived" in the hotel Los Linajes, which was built into the hillside, just inside of the walled city. I tried to write about the experience on my blog, but  I barely scratched the surface – and two years have already passed. The tiny pieces of the Segovia puzzle took many days to come together. If I'd only had a day, I would have never noticed: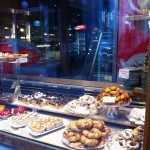 i.e. universidad, a converted convent, with a nativity scene carved at the top. Ferdinand and Isabella could be seen kneeling beside the infant Jesus. (They were born several hundred years too late, but the monarchs wanted to be a part of it anyway.)
How the sun never quite felt like it set; the sky was always a deep, dark navy with a glow at its edge from twilight until dawn.
The most delicious cake, traditional ponche con natilla, that is from Segovia. I have never forgotten the crunchy-sugar top.
The impromptu wedding in the plaza mayor; the bride was dressed like a pinup model, and she arrived on the back of a Vespa. So did their 30 guests.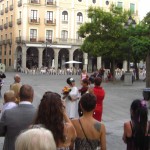 A question for the community: When have you ever taken a day trip to a town that crept into your mind, and you wish you'd stayed for longer?
Tags: castile y leon, daytrip, madrid, piano, segovia, spain, unesco
Posted in Cities in Spain |